Posted on Feb 10, 2022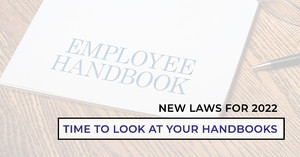 Paid Leave
Connecticut employers have been (or should have been) withholding a small percentage of employees' salaries this year to contribute to the CT Paid Leave (CTPL) fund. The CT Paid Leave Authority will be administering this and this will provide CT employees with compensation starting January 1, 2022 if they qualify for leave under the new paid leave laws. This law is income replacement, not job protection.
NOTE: The CT Paid Leave is entirely separate from the amendments that have been made to the Connecticut Family & Medical Leave Act (CTFMLA). The CTFMLA provides for protected unpaid leave and is managed by the Connecticut Department of Labor. Starting January 1, 2022, the CTFMLA law gets expanded to nearly all private employers and now provides up to 12 weeks every 12 month period and an employee may take up to 2 additional weeks of leave for a serious health condition resulting in incapacitation that occurs during a pregnancy.
California, Illinois, New York, Oregon and the District of Columbia also recently passed family leave-related legislation, with California adding protected leave for the care of parents-in-law for both private and public sector employees.
Harassment and Discrimination
Nine states (and NYC) have sexual harassment training requirements for private-sector employers! If you're an employer in CA, NY, IL, CT, DE, MA, WA, RI, or NJ and have not complied with these training requirements, you could face significant penalties.
Connecticut, Oregon and some municipalities in North Carolina recently passed legislation prohibiting workplace discrimination based on hair texture and hairstyle. The new law amends the Connecticut Fair Employment Practices Act, which prohibits employers with three or more employees from discriminating against employees based on protected characteristics, including race.
Effective January 1, 2022, employers in CT can no longer require an individual to sign settlement or non-disparagement agreements relating to unlawful acts in the workplace including discrimination and harassment.
Wage and Hour
Under Federal law, tipped employees will need to be paid a full minimum wage (the higher of state or federal) under the FLSA Final Rule (Part 531 under Partial Withdrawal of Tip Regulations) when performing work that does not directly or substantially support "tip-producing activities" under the 80/20 rule definition.
Employment
In Illinois, employers are still prohibited from seeking an applicant's salary history, but may provide information about compensation for the position applied to as well as discuss an applicant's salary and benefits expectations for the position during the application process. In addition, effective January 1, 2022 employers in Illinois that rely solely upon artificial intelligence to determine whether an applicant will qualify for an inperson interview must gather and report data about the race and ethnicity of all applicants.
Effective January 1, 2022, Pennsylvania employers are prohibited from requiring prospective employees to undergo testing for the presence of marijuana as a condition of employment (excluding some positions such as public safety, federal contractors, positions that require commercial driver's licenses, and formal caregiver positions).
COVID-19
In Alabama, employers must allow religious exemptions to any vaccination mandate.
Effective January 18, 2022, West Virginia employers that require that employees and prospective employees be vaccinated against COVID-19 are required to permit a medical certification from a licensed physician or an APRN or a notarized certification by the employee or prospective employee indicating that the individual's religious beliefs prevent them from receiving the COVID-19 vaccine.
We are still closely following OSHA's ETS and the Center for Medicare and Medicaid Services healthcare COVID-19 vaccination mandate and encouraging all employers with 100 or more employees to do the same.
Bottom line: Employers should review their employee handbooks to ensure compliance with these new law changes.
Back to Blogs
Helpful Resource Links