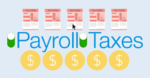 Payright Payroll Affiliates, a TPS Group Company, offers you customized payroll solutions that will allow you to pay your employees quickly, easily, and without error. Our solutions have helped simplify the payroll and tax processes for businesses of all type and sizes. Transmit your payroll information to us using one of the following methods:
Phone
Fax
E-mail
Remote Access Online

Internet Based Payroll Services in CT
Payright Payroll Affiliates offers Evolution & Kronos software solutions. This software gives your business the advanced payroll management solutions you need in today's business world. Our internet based payroll system provides for quick and easy access to your data. Take your payroll management to a higher level and watch it evolve with our solutions.
Tax Filing Service in CT
Payright Payroll Affiliates takes full responsibility for the payment of all federal, states and local payroll taxes. We will also file all quarterly and year-end forms directly with the proper authorities. Have peace of mind knowing that all work is guaranteed correct or we pay the penalties and interest.
Federal New Hire Reporting
Due to new federal laws, all employers are now mandated to report new hires to the government within two weeks of hire. Let Payright Payroll Affiliates handle this headache for you! Our system will automatically determine new hires each period and electronically report them to the proper agency.