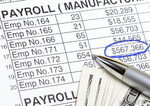 TPS Group offers Common Account services, thru Payright Payroll Affiliates, Inc., to make your life, and your business, run as smoothly as possible. This timesaving process automatically debits payroll, payments, and payroll tax monies from a business account, alleviating the need to track and reconcile checks individually.
Never worry about missing a deadline or being penalized for an error. With our Common Account Service, we will assume all responsibility for timeliness and accuracy.
For more information on Common Account Payroll Services, Contact TPS Group Today.