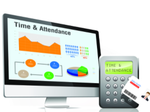 Let TPS Group, along with the exceptional Payright Payroll Affiliates' software, provide your business with a customized time & attendance system that will eliminate the frustrations & wasted time & money that go hand-in-hand with manual timekeeping. Managing time and attendance, for any type of business, can prove to be quite a hassle. However, this no longer needs to be the case. TPS Group, along with Payright Payroll Affiliates, offers a unique payroll experience that will help you and your employees enjoy a seamless, accurate, & easy-to-use time & attendance system. Not only that, but we can customize a payroll experience that is based on your sophistication and needs and not just by how many employees you have.


Benefits
When it comes to tracking time & attendance for your employees, a lot of time can end up getting wasted in the process. TPS Group is adamant about educating our clients on the many benefits associated with Payright Payroll Affiliates' Time & Attendance software. Among many other, this time & attendance software provides:


Automated Online Timekeeping
The Payright Payroll Affiliates' Timekeeping system was designed with everyday people in mind. By eliminating the need to calculate times cards and collect data, you'll be able to save time and money each pay period. A few of the key benefits of Automated Online Timekeeping are:
Reduced Clerical Work
Minimize EmployeeTime Theft
Cost-Effective & Competitive Pricing
No Set up Necessary For Clocks- Simply "Plug it in"
Online Viewing & Editing
Supervisor Logins
Free Daily E-mail Reports
No Software to Install
Automated Account Settings
Job Costing & Tip Reporting
Exceptionally User-Easy


Timekeeping Services in CT
With the use of Payright Payroll Affiliates' automated time keeping systems, your time & attendance issues will be resolved and your needs will be met. Our solutions allow you to take control of and optimize your employee time & labor reporting.
Reduced Manual Costs
There is a cost to manage time. Often overlooked, the monthly costs that go along with time card preparation are remarkably high. Payroll errors, employee punch approximations, and payroll staff expenses create a significant expense that far outweighs the cost of Payright Payroll's automated timekeeping technology.
Convenience & Accessibility
Unfortunately, when manual time keeping exists, there is much room for user error. Anyone who's used this outdated method knows that few things irritate their employees more than paycheck errors. Rectifying this issue takes time and effort. With more accurate time records, you'll find the clear benefit of more accurate paychecks. Using Payright Payroll's automated system can significantly decrease, if not eliminate completely, the number of inaccuracies and Errors. With a Payright Payroll System, your employees will simply punch in and out with the swipe of their personal time card, entering a PIN number, directly through their PC, or even over the phone with Voice Clock. At that point, your employee data is secure, immediately & readily available on the web.
Online Reporting
Imagine being able to log in to a payroll software that effortlessly provides you with all the information you need in an easy-to-use and read format. From the online site, employers are able to verify and revise employee punches, view updated totals, run payroll reports, and much more.

Start saving time NOW with our state of the art customized Time & Attendance software offered by Payright Payroll Affiliates. It's time you begin enjoying the benefits of our Time & Attendance Services in CT.