Posted on Aug 23, 2021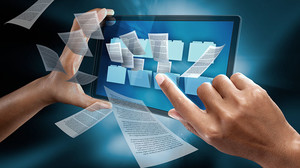 In July 2020, the Department of Labor finalized a rule that makes it easier for retirement plan sponsors to send certain retirement plan documents to covered participants and beneficiaries via email and on internet websites. These documents include quarterly benefits statements, plan summaries, and plan changes. Besides the savings for plan sponsors on printing and mailing costs, there are also benefits for plan participants. A study conducted by the Spark Institute showed that e-delivery is a secure and efficient way to convey important information, and along with access to financial education tools, plan participants can be encouraged to save more or make adjustments when they check their retirement accounts online. E-delivery also provides quick access to information and reduces clutter.
Some organizations, such as the AARP, have objected to e-delivery on the grounds that a significant number of older adults in America either don't use the internet or lack access to a broadband connection, especially those who live in rural areas. The Pew Research Center's 2020 study showed that while 93 percent of all American adults are online, only 75 percent of those age 65 and older say they use the internet.
However, plan participants still have the option to opt out of electronic communications totally and continue to receive paper documents, or they can opt out of specific types of documents. Other key elements of the ruling include the following:
Plan sponsors that post documents to a website must inform plan participants of the documents that are available (called a NOIA, or Notice of Internet Availability), include a link or web address to access the documents, and inform participants that they have the right to receive paper copies. Plan sponsors can also choose to send documents directly to participants via email.
Safe harbor doesn't cover all documents or all plan participants, and covered participants must provide a valid email address or smartphone number.
Plan sponsors must periodically allow participants the opportunity to change their delivery preferences.
Documents posted to a website must be available for at least a year or until updated, and plan sponsors must have system checks for invalid email addresses.
So, is the move to more virtual technology the right course of action? In making the decision for e-delivery, it's important for plan sponsors to weigh cost savings with cybersecurity risks and the technical capabilities of employees.
---
This material is provided for informational purposes only, and is not intended as authoritative guidance, legal advice, or assurance of compliance with state and federal regulations.
Back to Blogs
Helpful Resource Links