Posted on Jan 18, 2023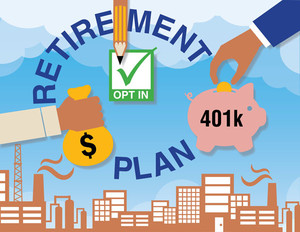 When it comes to important life goals, such as graduating from college or achieving a career milestone, the journey takes time, perseverance, and hard work. However, the payoffs in the end, such as the rewards earned and the sense of pride, are worth it. Saving for retirement is similar in this way, which is why it's important to start saving as early as possible and at a high enough rate to meet income needs later in life.
One way to help employees make progress towards their retirement goals is by offering auto-enrollment and auto-escalation features in their 401(k) plan. These features can have a positive impact on retirement outcomes, but it's important to review them to ensure they are optimized.
Auto-enrollment is often only introduced to new employees, missing an opportunity to include existing workers who could also benefit. Even if offered the choice to opt-out, statistics show that most employees stay enrolled, which means they are making progress toward their future financial success without much effort on their own.
Auto-escalation is another important feature, it automatically increases employee contribution rates annually until they reach their target savings rate. This is crucial because auto-enrollment typically starts at a low rate of 3 or 4%, which is not enough for most people to accumulate what they need in retirement. Auto-escalation increases contributions by 1% each year until the employee is contributing 8 to 10%.
Benefits of Auto-Enrollment and Auto-Escalation:
Encourage employees to save for retirement at an early stage and at a high enough rate to meet their future income needs
Optimize retirement outcomes for employees, even for existing workers
Auto-escalation increases employee contribution rates annually until they reach their target savings rate
More employees contributing at higher rates can help the plan pass non-discrimination tests and give owners a better likelihood of maximizing their annual contributions.
In conclusion, even though automatic features may not be suitable for every plan and every business, we recommend considering them for your 401(k) plan. Auto-enrollment and auto-escalation can greatly benefit your employees and help them reach their retirement goals.
Back to Blogs
Helpful Resource Links