Administrative Management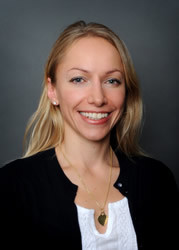 Ella Aderhold
Vice President, Pension Plan Design and Consulting
[email protected]

vCard
"It's important to provide services that set us apart from others in the industry. We pride ourselves on being able to offer unique retirement solutions to our clients."

Throughout her career at TPS Group, Ella has worked in the Defined Benefit department - first as an administrator, then team leader, then manager of the department and now Vice President, Pension Plan Design and Consulting. Ella enjoys the challenges of designing, calculating and testing the complex combinations of different types of pension plans with an emphasis on offering efficient and suitable customized solutions. "Our knowledge and expertise allow us to stay on top of the most recent trends and developments in the retirement plans industry, so we can continually adjust our approaches to the ways we handle design, maintenance and administration of our clients' plans," she notes.

During her time with TPS Group, Ella has been particularly appreciative of the company's work/life balance. "This allows us to focus on offering the best we can without the feeling of sacrifice that employees often feel at other companies."

Since joining the company in 2000, Ella became a member of the American Society of Pension Professionals and Actuaries, earning her multiple credentials including Certified Pension Consultant in 2006 while being recognized with the ASPPA's Martin Rosenberg Academic Achievement Award during the examination process. Ella earned her Bachelor of Science degree in Mathematics from Louisiana State University.
Related to: Third Party Administrator, TPA, Pension Plan Design Consultant, Retirement Plan Consultant, 401k Plan Assistance, Retirement Plan Design, Employer Retirement Plan Consulting, Actuarial Consulting, Pension Consultant, 401k Plan Consultant, Actuarial Services, 401k TPA, 403b TPA