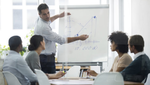 A Human Resource Department is responsible for critical parts of a company such as personnel sourcing and hiring, skills development, benefits administration, performance management, and compliance. TPS Group provides a variety of HR Services, including Training Workshops, to help your business run as efficiently as possible.
Why Attend a Training Workshop?
When it comes to Human Resources, it's important that you and your employees are well informed. Your organization and its employees are depending on your HR department to provide them with accurate information, advice, and answers on everything from government regulatory issues to the finer points of the employee handbook.
Topics Covered
We provide individual or group training on various topics relating to Human Resources and Workforce Management. TPS Group offers an extensive catalog of on-site or off-site training topics. Topics covered at our HR Training Workshops include, but are not limited to:
Harassment
Bystander Training
Ethics
Diversity & Inclusion Training
Performance Management
Effective Interviewing
Supervisory Training
Leadership Training
Effective Communication
Change Management
Employment Law
Conflict Resolution
Helping Employee's Grow
Effective Job Descriptions


Customizable Training
We know that each business is different and that within each business are different needs. TPS Group offers customizable HR Training Workshops based on the location, size and specifics of your company.


For more information about HR Training Workshops in CT, Contact TPS Group Today.