Health Reimbursement Accounts (HRA)

Health Reimbursement Accounts (HRA) in Quincy, MA
Health Reimbursement Accounts are funded and owned solely by the employer and utilized for the benefit of employees to cover the cost of medical expenses chosen by the employer.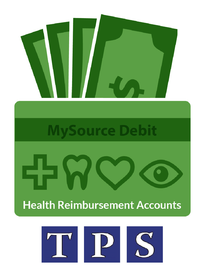 What is a Health Reimbursement Account (HRA)?
Created under Section 105 of the Internal Revenue Code, Health Reimbursement Accounts (HRAs) are employer funded accounts used to reimburse medical expenses to employees. The employer decides how much funding will be available to the employees for the year. Similar to Section 125 Flexible Spending Accounts, HRAs reimburse medical expenses such as copays, deductibles, office visits, prescriptions, vision care expenses and dental care expenses. However, unlike FSAs, the "Use it or Lose it" rule does not apply to HRAs, allowing for the option to have unused funds carry forward. HRA benefits are untaxed at the employee level and tax deductible to the company.
Reimbursements
Most employers take advantage of the convenience of electronic reimbursement made available through the use of the MySource Debit Card as an alternative to traditional methods of filing claims. The MySource Debit card can be used at qualifying merchant locations wherever MasterCard is accepted - from physician and dental offices to pharmacies and vision service locations. The MySource Debit card allows employees to pay for expenses at the point of service, provid­ing them with instant access to their account, without having to complete claim forms. Manual paper claim processing is also available to employees for when Service Provider debit card processing is not available.
HRAs after Health Care Reform
Under the Patient Protection and Affordable Care Act (PPACA), otherwise known as Health Care Reform, group health plans are prohibited from imposing annual dollar limits on "essential health benefits" starting in 2014. By their very nature, HRAs limit the amount of benefits that may be provided to a participant's current account balance. This raised the question of how HRAs could comply with the annual limit restrictions. Fortunately, the interim final regulations on annual limits explicitly exempted HRAs that are integrated with other coverage as part of a group health plan as long as the other coverage would comply on its own. This means that an HRA plan design that is linked to an insurance plan and reimburses only expenses not funded by the insurance plan, such as deductibles, is a PPACA compatible design. As a result, many employers have switched from offering only traditional insurance plans to offering HRAs linked to High Deductible Health Plans, to cover all or a percentage of employee deductibles. The result is more employee coverage and less premiums.
List of Services
Preparation and generation of Employee Coverage Report for payroll purposes.
Preparation of Administration Guide.
Preparation of Service Agreement.
Preparation of introduction letter to participant with instructions about the MySource debit card. Opening of individual debit card accounts to all new participants
Processing of deletions/terminations of employees.
Processing of all family status changes.
Processing of all plan changes, when applicable.
Processing of HRA manual reimbursement claims.
Disbursing of reimbursement claim checks, when applicable.
reparation of monthly account balance report for employer, as well as a cash status report.
Related to: Third Party Administrator in Quincy, MA
Further Reading: Health Reimbursement Accounts (HRA)
Resources
Internal Revenue Service (IRS)
Federal tax laws, rules and forms
Businesses and individuals
Independent contractor rules for IRS
U.S. Department of Labor (DOL)
Federal wage and hour law
Exempt and non-exempt employee status
Compliance assistance
Independent contractor rules for DOL
Employee Benefits Security Administration
Benefit plan compliance and assistance (health and retirement) COBRA HIPPA
Affordable Care Act Information and Health Insurance Marketplace
U.S. Bureau of Labor Statistics (BLS)
Labor statistics & wage data
Contact us about Health Reimbursement Accounts (HRA) in Quincy, MA