Hiring & Recruiting in Lackawanna, NY
TPS Group can assist you in determining needs, recruiting, conducting background checks, interviewing and on-boarding.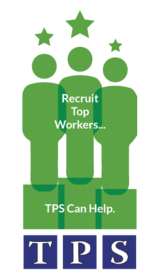 Hiring the right employees for any company can be extremely difficult and very time-consuming. TPS Group offers Hiring & Recruiting Services in Lackawanna, NY so that your company has the quality of employees that it deserves and a team that's built to succeed. As a company that places the same level of importance on finding and keeping the right people, we get it. Our Hiring & Recruiting team is diligent about understanding your business and your needs.
Hiring & Recruiting Services in Lackawanna, NY
Your business and your success are our top priorities. Everything that we do reflects our deep understanding of Human Resources and the recruiting process. We can assist you in:
Evaluating Your Needs
Recruiting
Conducting Background Checks
Interviewing
On-Boarding
We deliver talent, so that you can focus on your business.
For more information about Hiring & Recruiting Services in Lackawanna, NY, Contact TPS Group today.
Related to: HR Consultant in Lackawanna, NY, HR Consulting Firm in Lackawanna, NY, Human Resource Services in Lackawanna, NY, HR Professionals in Lackawanna, NY, Discrimination Training in Lackawanna, NY, Harassment Training in Lackawanna, NY
Hiring & Recruiting Videos
Paying Fees From Plan Assets
Frequently Asked Questions
Recruiting top workers should be a priority for every business, and your company should be no different. However, locating and attracting top talent is more competitive than ever.
Employers turn to HR consulting firms that can assist with Hiring & Recruiting for many different reasons and we find that there are a variety of circumstances that lead a company to require professional hiring & recruiting services.
Most often, employers utilize our services when one or more of the following is the case:
They need assistance in analyzing the required duties and requirements of the position.
They aren't sure of the skills, experience and compensation range required for the position.
They don't have enough time to recruit the open position.
They have had trouble filling the job for an extended period.
They do not have internal staff who are proficient in interviewing who may be unaware of employment laws affecting recruiting and interviewing.
They have seen high turnover rates for the position and seek expert help.
Resources
U.S. Department of Labor (DOL)
Federal wage and hour law
Exempt and non-exempt employee status
Compliance assistance
Independent contractor rules for DOL
O*NET OnLine
Job analysis and job description development
U.S. Bureau of Labor Statistics (BLS)
Labor statistics & wage data
Internal Revenue Service (IRS)
Federal tax laws, rules and forms
Businesses and individuals
Independent contractor rules for IRS
Equal Employment Opportunity Commission (EEOC)
Federal laws prohibiting job discrimination & enforcement
Occupational Safety and Health Administration (OSHA)
Safety laws training compliance assistance
Society for Human Resource Management (SHRM)
Human resource data – laws, policies, forms and tools
Contact us about Hiring & Recruiting in Lackawanna, NY